Online Learning - Resources, Updates, Supports
Please use the infomation and contact details below to access the support and assistance that you may require throughout this period of school closure.
Wellbeing/Student Supports
Contact/Support Details:
Dean Form 1 – Ms. Edel Farrell. efarrell@cco.ie, 089-2230763
Dean Form 2 – Mr. Michael Guilfoyle mguilfoyle@cco.ie 089-2230756
Dean Form 3 – Ms. Catherine Stack cstack@cco.ie 089-4775171
Dean Form 4 – Mr. Colm Hanley chanley@cco.ie  089-2230723
Dean Form 5 – Ms. Sarah O'Brien sobrien@cco.ie 089-2230768
Dean Form 6 – Ms. Mairead Finucane mfinucane@cco.ie 089-2473957
School Completion and Home School Community Support Details
School Completion Officer: Mr John Kelly, jkelly@cco.ie 086-8032256
Home School Community Liaison: Ms Fidelma Power, hscl@cco.ie 086-3888829
Guidance and Counselling Supports
Guidance Counsellor, Mr. James Galvin, jgalvin@cco.ie, 089-2315619
Guidance Counsellor, Ms. Moira Maher mmaher@cco.ie 089-2315523.
Learning & Engagement Links
Google Workspace
All of our Online Learning will be delivered through the Google Workspace Platform. The links to Google Classroom, Meet and Gmail are below for your convenience. Please log in with your cco.ie student email.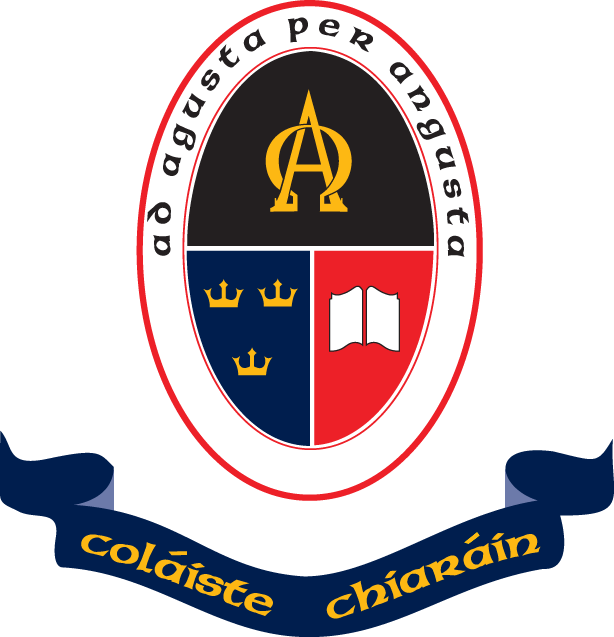 Coláiste Chiaráin is a co-educational secondary school operating under the patronage of Limerick and Clare Education and Training Board. www.lcetb.ie
News - School Updates
In addition to our school website, please follow our school updates and activities on Twitter, Facebook and Instagram
Contact Details
Coláiste Chiaráin
High Street, Croom, Co. Limerick
Tel: +00 353 61 397700
Email: admin@cco.ie
Disclaimer
The contents of Coláiste Chiaráin's web pages are provided as an information guide only. 
While every effort is made in preparing material for publication, no responsibility is accepted by or on behalf of Coláiste Chiaráin for any errors, omissions or misleading statements on these pages or any site to which these pages connect.